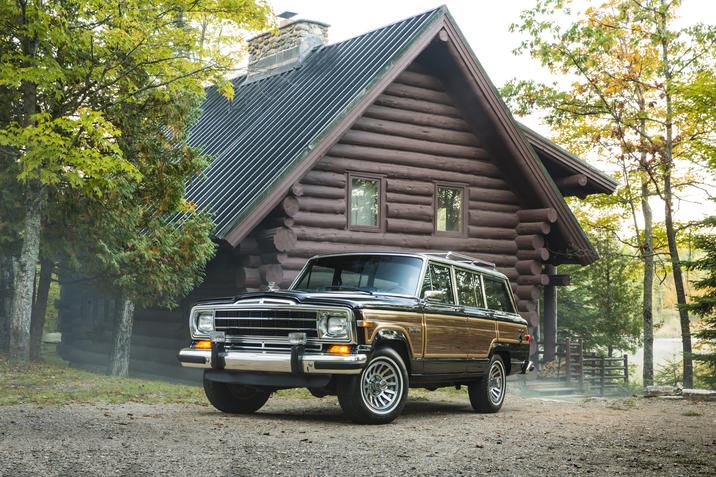 It may seem a little early to be looking to the 2019 model year when we still haven't got all the 2017 vehicles in showrooms just yet, but it's never too early to find out some juicy details about a familiar name from the past that's being resurrected. It may be a while yet until a 2019 Jeep Grand Wagoneer is on display in our showroom here at Route 46 CJDR, but a trusted source appears to have been spilling the beans on what we can expect when it does get officially unveiled.
When it does finally land, the 2019 Jeep Grand Wagoneer will be a three-row luxury SUV that will be the new flagship model of the Jeep range. And when we say flagship model we're not exaggerating in any way, shape or form. To give you some idea of where this completely new Jeep model will be aiming to position itself in the market, Jeep CEO Mike Manley has already said it shouldn't be ruled out for prices to be in the region of $130,000, or possibly more.
That kind of price ticket will pitch the new Jeep against some seriously stiff competition from the likes of Mercedes-Benz and Range Rover. To be fair, Jeep has definitely been getting more and more upscale with its current flagship model the Grand Cherokee in recent times, but this will still be a pretty big leap for the brand that has to signal exciting times ahead.
From what we can make out from the leaked images of the Grand Wagoneer, the front and rear take a good degree of inspiration from the current Grand Cherokee, but in this case there's a little more muscle and there's a somewhat sinister look delivered by the seven-element headlights. The seven-light theme continues to the rear of the vehicle too, and it wouldn't be a surprise if this particular design cue was a not-so-subtle reference to the seven-slot grille we already see on all Jeep models. However, this time the grille appears to be a relatively short, wide-mouthed arrangement that's a bit of a departure from what we're used to seeing at the moment.
As we might expect for a large SUV aimed at competing at the very highest end of the segment, there's quite a lot of brightwork on show, and not just on the grille either. There are some similar pieces connecting the exhaust tips at the back of the vehicle, and matching tow-hook surrounds at the front end. Whether it's for purely design or essential engineering reasons we don't yet know, but there's no getting away from the fact the Grand Wagoneer appears to be a little wider than the current Grand Cherokee.
Although it's still conjecture at this early point, the Wagoneer's underpinnings are likely to be shared with the next-generation of the Grand Cherokee, although a significant wheelbase stretch will be needed to accommodate that additional row of seats. Four-wheel drive really should be standard, while Hemi V-8 and diesel and gas V-6 engines are likely to power the new Jeep flagship.
If you want to be kept in touch with developments surrounding the 2019 Jeep Grand Wagoneer or any of the vehicles we currently have to offer, don't hesitate to give us a call, complete the online contact form, or come and see us here at Route 46 CJDR.