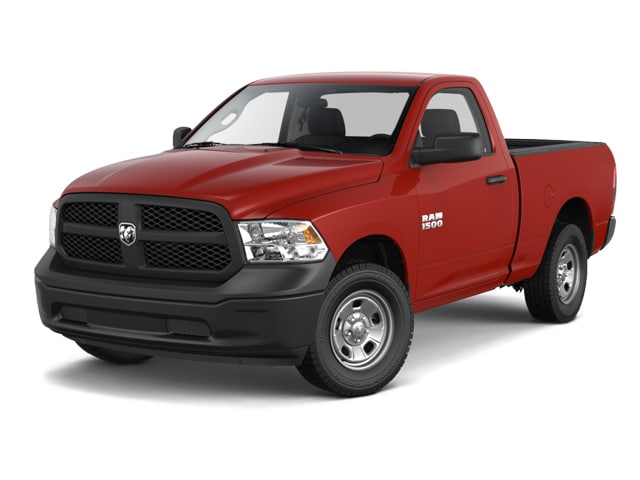 Something pretty significant happened recently, although if you're not a Ram aficionado or a keen observer of the domestic truck market, it may have passed you buy. You see, for the first time since a Clinton was last behind the desk in the Oval Office, the Ram Truck brand has overtaken General Motors' Chevrolet Silverado to take second place for monthly truck sales here in the U.S. It may not have been an occasion that quite warranted us giving everyone an extra day vacation to mark the event here at Route 46 CJDR, but it's a very notable achievement for the brand all the same.
To be a little more precise, it's actually been 17 years now since the same thing last happened, which was way back in July 1999 when what was then still the Dodge brand eclipsed the Silverado by 6,893 units in sales of light-duty pickup, according to data from WardsAuto. So, this September, the Ram Truck brand has managed to see-off the challenge from the Silverado once again, although we have to admit it was by the somewhat more modest margin of 739 units this time around. Regardless, here at Route 46 we don't mind admitting it's a great feeling to see Ram selling 46,119 trucks in the month, compared to the Chevy's more modest 45,380.
If we dig down into the statistics a little deeper, we find Ram pickup sales were up by what is a seriously impressive 29.2 percent in September, whereas the Silverado actually saw sales fall by some 15.5 percent, compared to the same month last year. As far as the year-to-date figures are concerned, Silverado is also down by 3.5 percent at 425,556 units sold through September, while Ram Truck sales have increased by 8.1 percent and stood at 346,107 for the same period. Even the Ford F-150 saw its sales dip by 3.4 percent for the month of September, although it still hung on to top-spot for the month with 62,912 trucks sold.
Jim Morrison, who's the head of Ram Truck-FCA North America, said of the achievement;
"Our September pickup truck sales are a good illustration of how the Ram Truck brand is drawing customers with great product. Our pickup-truck customers are attracted to Ram's quality, reliability and durability. America's longest-lasting pickups offer great value along with class-exclusive features like load-leveling air suspension, RamBox and best-in-class fuel economy with the 29-mpg EcoDiesel trucks."
If you've been checking out Ram pickups here at Route 46 recently, you'll probably know there have been some great offers available from ourselves and the manufacturer, and that could lead some to think incentives are behind the recent success. However, the data shows that while incentives from Ram increased by just $29 from August to September, incentives were up by $1,496 on the Sierra, $184 on the Silverado and even $301 on the F-Series.
Despite the recent great showing we're not resting on our laurels here at Route 46 CJDR, so check out our latest great deals online, give us a call, or drop in to see them for yourself.