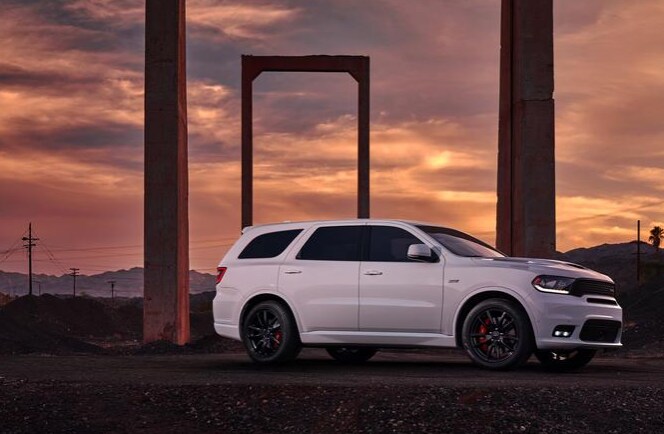 Are you looking for a sport utility vehicle that has just as much bite as it has bark? In the 2018 Dodge Durango, drivers will find both attitude and power in this updated version of the classic model. Don't wait - look to take it for a test drive at Route 46 Chrysler Dodge Jeep RAM soon!
Proclaimed the "most powerful and most capable" three-row SUV by the brand, the 2018 Dodge Durango SRT  (Reserved for performance versions of each model, SRT is a Dodge sub brand. It stands for "Street and Racing Technology) is a three-row SUV that comfortably seats seven passengers, and is equipped with a Hemi V-8 engine that generates 475 horsepower and 470 pound feet of torque. If you're looking for even more impressive statistics, it has a towing capacity of 8,600 pounds.
"This is what you get, when you take everything great about the Durango and combine it with the performance of the Charger SRT: a 12-second quarter mile, toy-hauling, three-row muscle car."  - Tim Kuniskis, head of FCA's passenger cars brands.
The Detroit Free Press recently previewed the new Durango, and highlighted some of the amenities that Dodge enthusiasts can find inside the SRT version. A cold-air duct and heat extractors to cool the engine and overall performance are a part of the newly-designed SRT hood, and the standard eight-speed automatic transmission is back, but specially calibrated for this particular model. Drivers will be able to precisely adjust the drive settings to maximize both comfort and performance thanks to the new SRT seven-mode drive system, and, modeled after the Charger, the Durango has a new exhaust system tuned to offer a deep, high performance exhaust note. Throw in new Brembo high-performance brakes, and the Durango is tough competition for other models in its class.
"It does all the things we want a performance car to do," says Mark Trostle, head of performance, passenger, and utility vehicle exterior design. "It really is our three-row Charger."
In the past, the Durango has been a household name. Drivers of past iterations have yet to experience the style and performance of the SRT model, though, and will finally be able to in the 2018 version. The 2018 Dodge Durango SRT exceeds all expectations for SUVs in its class, and is scheduled to be one of the many available models on the lot at Route 46 Chrysler Dodge Jeep RAM in the Fall of 2017. It'll be here before you know it, so make sure you inquire for more information by checking out //www.route46chryslerjeepdodge.net or by calling to schedule a test drive.