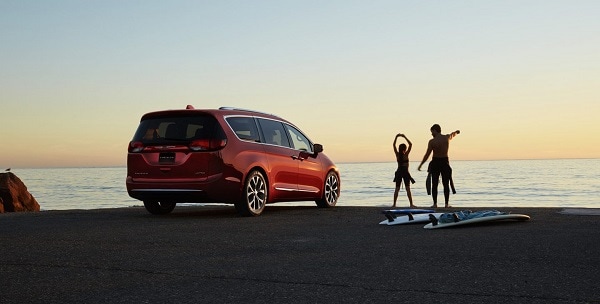 When someone first suggests a road trip down the Atlantic Coast, your first thoughts might go directly to riding up and down I-95, gazing at industrial work sites out both windows. There's so much more to that journey, though, and Road Trip USA , wants drivers to know it. For a stretch of nearly 2,000 miles, there's a route you can take that will have you within sight and earshot of the second largest ocean on Earth, making the trek more enjoyable and serene than you ever thought imaginable.
Route 46 Chrysler Dodge Jeep RAM wants you to do it in the ideal family road trip vehicle; the 2017 Chrysler Pacifica.
Starting at Ellis Island with a beautiful view of the Statue of Liberty, and winding up in the free-spirited Key West in Florida, this route that offers something for everyone is relatively unknown. Assateague Island or Cape Hatteras can satisfy anyone who is looking for lighthouses or serene beach settings; both locations have been protected as national seashore parks. If you're searching for some memories of home, you'll be able to find it with the Coney Island-style of Ocean City, Maryland. Don't forget to check out the exhilarating boardwalks and awe-inspiring golf courses of Myrtle Beach, South Carolina, either.
No matter what your idea of a comforting vacation is, you'll be able to find it on the road, rather than the destination, when you drive through these landmarks in your 2017 Chrysler Pacifica.
2017 Chrysler Pacifica Guarantees Your Family Fun and Safe Travels
As in any good family road trip vehicle, kid-friendly features are at a premium in the latest iteration of the Pacifica.
Pop-up sunshades in the second and third rows make nap time a cinch, and the Uconnect Theater rear entertainment system (which comes standard on the Touring L Plus model) guarantees hours of viewing pleasure for whoever occupies the backseats.
Fuel economy won't be a worry for drivers as they cruise the coastline, either. A firsthand account from Cars.com states that on a 392-mile trip, the Pacifica averaged 23.8 mpg, which is right in line with its EPA-estimated 18/28/22 mpg city/highway/combined rating.
More than anything else, the Pacifica is just a comfortable family vehicle, ready to transport your spouses, sons and daughters on your next memorable road trip.
In the past, crossovers might not have had the combination of being stylish, sleek or sporty-looking and also safe and accommodating of those in its cabin. The 2017 Chrysler Pacifica breaks the stereotype and is proud to be one of the many available models on the lot at Route 46 Chrysler Dodge Jeep RAM. More information can be found at //www.route46chryslerjeepdodge.net/ or by calling to schedule a test drive.